SureSmile
---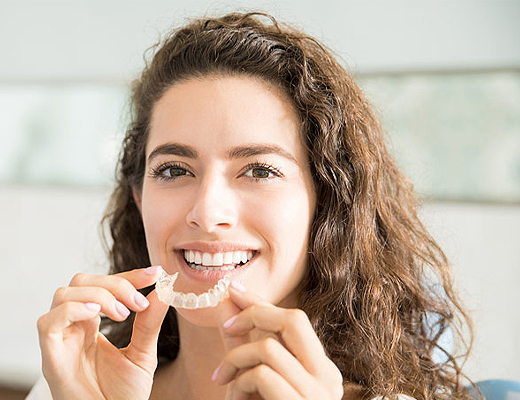 SureSmile is an orthodontic device used to straighten teeth. The process involves a set of custom-made, clear aligners that fit over your teeth to move them into the proper position over time. The transparent appearance of SureSmile is one of the main reasons why patients choose this orthodontic solution.
Professional SureSmile Treatment in Corpus Christi, TX
If you're interested in SureSmile treatment in the Corpus Christi area, the office of Kenneth Gonzales, DDS, PLLC, is here to help. With decades of experience and a deep dedication to our craft, we've become one of the area's top orthodontic and dental practices. We stay up-to-date on the latest trends around the industry, and we also use advanced technology to provide the best service possible. Furthermore, we have a friendly team and welcoming office to make you feel right at home. If you're ready to find that smile you've wanted your whole life, give us a call today to make an appointment!
Benefits of SureSmile
SureSmile can change your life for the better. Here are some advantages of this amazing orthodontic solution:
Less Noticeable
As SureSmile features a clear appearance, they're much less noticeable compared to standard braces. In fact, many people won't even know you're wearing them! This can lead to more confidence and less hassle.
Removable
SureSmile is also 100% removable, allowing you to eat and drink normally. While it's best to avoid sticky and hard foods when wearing traditional braces, having SureSmile means you can eat whatever you want! In addition, the removable feature also allows you to brush and floss like normal.
Fast Treatment Time
Traditional braces involve a treatment time of around 16-18 months. With SureSmile, you're looking at a much shorter period—usually only a year! Be sure to speak with your orthodontist about the right treatment plan for your needs. For more complex corrections, you may need more time.
Comfortable
When compared to standard braces, SureSmile is much more comfortable. Traditional braces involve sharp edges that can irritate your lips and cheeks. With SureSmile , you simply pop on the high-grade plastic tray, and no metal gets in the way.
What to Expect
If you want to start the process of getting SureSmile , you'll first need to find out if you're a good candidate. This involves setting up a quick consultation with an orthodontist like Kenneth Gonzales, DDS, PLLC. If everything checks out, the next step involves taking X-rays and scanning your teeth to make your customized clear aligners. This information is then sent to the SureSmile laboratory, which is where your aligner trays are designed. Once they're shipped out to your orthodontist, you'll have another appointment to get your aligner trays and ensure a good fit. After that, sit back and let Invisalign work its magic!
To get started with the best SureSmile treatment in Corpus Christi, TX, contact the office of Kenneth Gonzales, DDS, PLLC, today!
Sources
greensboro-dentist.com/what-are-SureSmile-braces
hewettdds.com/what-are-the-benefits-of-SureSmile