CBCT 3D X- Ray Technology
---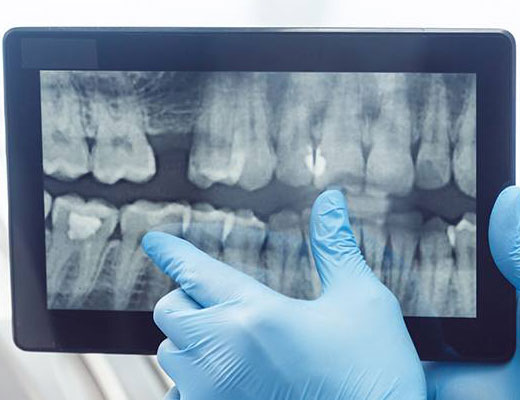 Welcome to Kenneth Gonzales DDS PLLC, your local family dental clinic. We specialize in cosmetic dentistry, preventative dentistry, and Invisalign braces. Each of these dental treatments requires X-ray prints from a digitized X-ray.
We use highly advanced CBCT 3D X-ray technology that is American Dental Association (ADA) approved for patient use. Learn more about how we use this type of digital X-ray for our patients' dental treatments.
3 Applications of X-Ray Technology in the Dentist's Office
Our goal as a dentist in Corpus Christi, TX, is to use advanced dental technology like the CBCT 3D X-ray to improve patient health more successfully. This type of digital X-ray serves many functions and helps our dentist treat patients in several areas. These dental treatment areas include:
Cosmetic dentistry
Invisalign
Preventative dentistry
Learn more about these three ways we use X-ray technology in the dentist's office.
Cosmetic Dentistry and Digital X-Rays
If you are interested in cosmetic dentistry, digital X-rays are most likely a part of the process. We use digital X-rays via the CBCT 3D X-ray to examine our patient's mouth. The images represent the patient's teeth, gums, and mouth structure through skeletal imagery.
We can use these images to identify areas of improvement. This is how we diagnose braces, bridges, and other cosmetic dental treatments that can change the position of teeth and improve one's bite.
Invisalign Braces Depend on X-Rays
Using Invisalign clear braces overnight is a good way to straighten teeth and improve the patient's bite. To see how well the Invisalign equipment is doing, we use digital X-rays. These X-rays identify any movements in the teeth and gum tissue by comparing previous X-rays.
Preventative Dentistry and Annual Checkups
When you schedule an annual dental cleaning appointment, you may need an X-ray of your teeth and gums. Digital X-ray, as with our CBCT 3D X-ray, will be a safer and more accessible way to view your mouth from the inside.
We use digital X-ray prints to look at your teeth and gums immediately during checkups. This allows our dental team to see any changes in your mouth structure, cavity issues, or potential decay risks.
Benefits of CBCT 3D X-Ray Technology
By choosing a safe and efficient digital X-ray machine for our digital X-ray records, our dentist has made the right choice in capturing patient records. We use X-ray records to identify areas of decay or concern in oral health, which is part of preventative care.
Our dentist will also use X-rays to show how your teeth are shifting in the right direction if you use Invisalign braces. We also use X-rays to teach you how your teeth grow and develop. Your dental records are part of your medical history and can follow you throughout your life.
Request Dental X-Rays in Corpus Christi
Whether you are interested in dental X-rays for your annual check-up or prefer this type of X-ray technology, we have you covered. At Kenneth Gonzales DDS PLLC, we provide digitized X-rays using CBCT 3D X-ray technology. Contact us at 361-992-2421 and request a dental appointment using our X-ray in Corpus Christi, TX.